Steel Alive System
System STEEL ALIVE intelligent shooting targets for everyone
Have you ever thought about digitizing your shooting? And about measuring speed and reflexes? And about tactical trainings carried out alone or with friends without the participation of an instructor?
You can find all this now! We have not forgotten about the battle scenarios either!
Find out how we've moved the FPS game to a real shooting range!
You can find all this all this now! We have not forgotten about the battle cenarious either!
Find out how we've moved the FPS game to a real shooting range!
How it's working?
Steel Alive transfers shooting to the 21st century. You do not have to measure your speed and skills manually anymore. A set of Smart Targets together with multi-colored LEDs attached to a regular steel plate will make your training more enjoyable and beneficial.
Master your shooting skills with complex and customizable training scenarious. Have fun with your friends by playing the multiplayer games offered. When the dust settles, compare your results and become the best shooter in the world.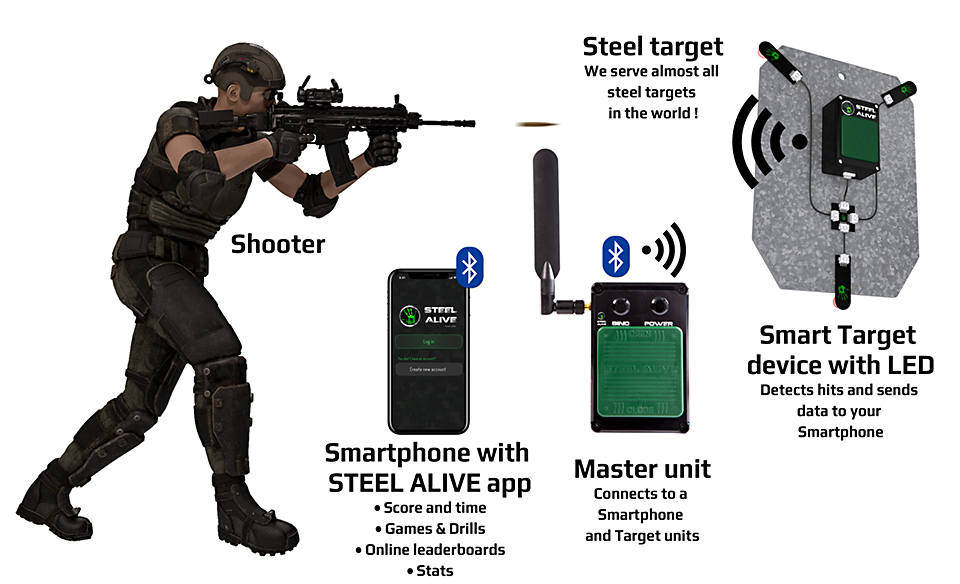 Steel Alive System features:
- Compatible: Steel Alive is a solution for every kind of steel target regardless of the origin or type. Our smart devices were designed to serve most of the steel targets ranging from 3 to 15 inch in radius. They work with calibers ranging from 0.22 to 0.223 and bb/airsoft guns.
- Durable: Smart Target Devices were tested with Hardox 550 steel plates and managed to withstand more than 20.000 rounds of various calibers.
- Portable: Combo pack is boxed in a heavy duty pelicase designed to protect devices against any damage that could occur during transportation. The whole set is lightweight (6 lbs) and individual Smart Target Device weighs only 3 oz.
- Efficient: Steel Alive system was designed to support shooting training of every kind and level of advancement. Our system supports ranges from 0 yards (polymer ricochet-free targets) up to 100 yards. Users can confront their skills in games and training modes as well as in combat-based scenarios. The results are posted in international leaderboards along with the special forces personnel benchmark. Multiple statistics allow the instructors to improve their team's marksmanship and practical skills.
- Scalable: While the initial pack consists of 5 Smart Target Devices the system can be easily scaled. One Master unit can drive up to 10 Devices. We also provide custom-made systems with the number of Devices limited only by the client's budget. All new developments are evaluated at our own 360-degree shooting range ensuring high reliability of the products.
See the video: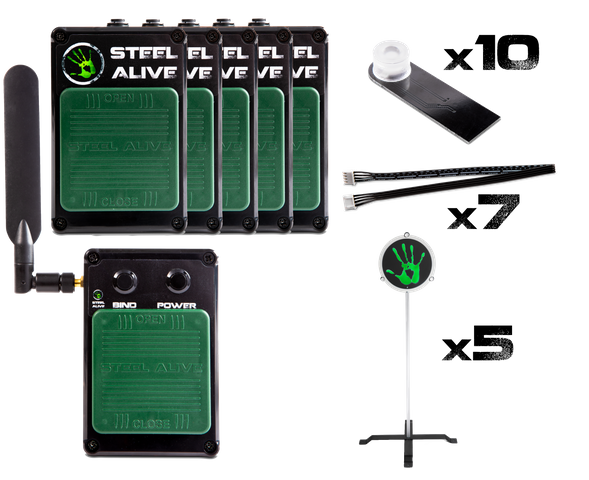 Price of the packs