PM1904A
PM1904A – is a new personal dosimeter of the POLISMART series, which is used for continuous measurement of the individual dose equivalent Hp (10) and the dose rate of Hp (10) gamma radiation (γ). The dosimeter has two independent alarm modes, informing about exceeding dose and dose rate. The first mode means WARNING, the second is DANGER. When the safety thresholds are exceeded, PM1904A warns you with a beep and light signal about the presence of a radiation source or the accumulation of a critical dose.
POLISMART®II PM1904A works offline, but it can, thanks to the Polismart®II application, communicate with the user's mobile device in real time via Bluetooth v 4.0 Low Energy Module (BLE112) (IOS), AndroidOS. The user's software is designed to display the current equivalent dose and dose rate, record dose and dose rate levels, take measurements, record lost routes and determine its geographical location using GPS. The free Polismart®II mobile application is compatible with: iPod® touch, iPhone®, iPad® (iOS), AndroidTM and is available on AppStoreSM or Google Play.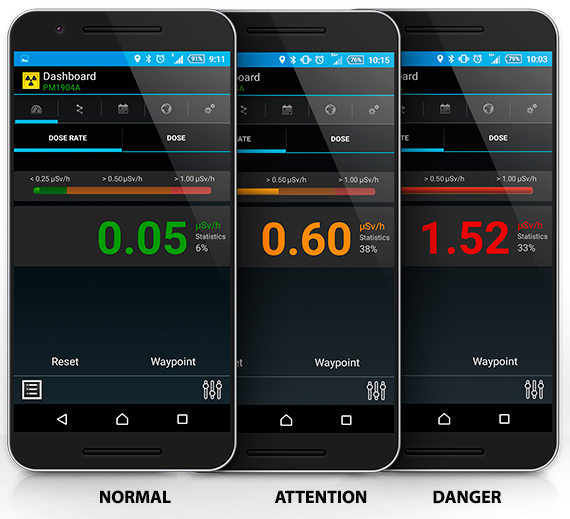 Levels of sound and light indication:
• Green flash - the device is working properly and the background radiation is below the set thresholds;;
• Red flash and beep - the threshold has been exceeded;
• Blue flash - Bluetooth v 4.0 turned on
Tracku recording mode:
The "track" mode allows you to record the movement of the Polismart device and display its route on the map. Each saved point contains the following information: GPS coordinates, date, time and the current dose value and its power.
Work in offline mode:
POLISMART® II PM1904A thanks to the built-in battery works independently. The dosimeter automatically saves the measurement results in RAM memory at a specific frequency. The interval can be set in the range from 1 minute to 18 hours thanks to the included software.
The following functions are available in the Polismart® II mobile aplication:
Traffic lights and sound signals if certain thresholds are exceeded;
Displaying the results of dose and equivalent dose measurement;
Display of measurement results in different units (Siwert Sv, Rentgen R);
Recording the user's movement path with the display of radiometric data on the electronic map;
Creating reports on the level of radiation;
Automatic grouping and convenient display of measurement history;
Flexible user profile settings (setting thresholds, units, sorting, etc.);
Integration of radiometric data in one database;
Displaying measurement results and geographic coordinates of other users;
Integration of radiometric data in one database;
Publication of measurement results in social networks - Twitter, Facebook;
Display of radiometric data on the world e-map.